About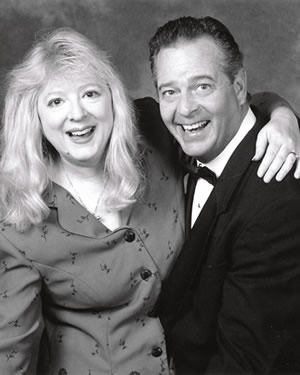 Download a high-res version of this photo
Entertainer Billy Finch has toured the country for over 20 years performing his legends stage show.  His 'spot on' singing impressions of Frank Sinatra, Dean Martin and Sammy Davis, Jr., along with Elvis, Johnny Cash, Ray Charles and Louie Armstrong have made him a favorite at corporate functions, conventions and theaters.

Billy and wife Carol, as The Lovely and Talented Minerva, have called their show a celebration of American Music.  Billy's interest in history include more than American music.  He is also an avid Civil War buff; as Carol will confirm, "I have been dragged kicking and screaming to just about every Civil War site east of the Mississippi."

Billy has now combined these two fields of interest in telling the story of the greatest battle ever fought on American soil:  Gettysburg, the Musical.

Billy has rewritten lyrics from some of the best loved American Standards, sung by America's greatest singers to tell the story of this three day battle between the Blue and the Gray. 

During the presentation, more impressions come into play as Billy & Carol portray John Burns (the only Gettysburg civilian to join the battle) and his wife as Ralph and Alice Kramden.  Jack Nicholson tells the story of Union General Winfield Scott Hancock; Cool Under Pressure.  Billy uses the voice of Rodney Dangerfield to represent the union general who received "No Respect at All"; General George G. Meade, the new commander of the Army of the Potomac.  Johnny Cash brings to life the story of Joshua Chamberlain and Little Round Top with the song, "Ring of Fire".

It's 'The Rat Pack Meets Pickett's Charge' and so much more.

This will be the most musical and magical history lesson that you will ever see.
---
Mezzo-Soprano, Carol A. Bullock was born in Cape Girardeau, Missouri.  She is the youngest daughter of pianists Ruby and Thad Bullock. 
Carol had the birthright of growing up in a musical family.  She performed her first vocal solos in grade school talent shows.  At age 12, Carol performed for large audiences with the touring Youth Choir of the First Baptist Church under the direction of Charles Hailey.
After graduating from College High School in Cape, Carol attended Southeast Missouri State University and studied with internationally renowned soprano Dr. Shirley Zielinski.  Mrs. Zielinski was very encouraging toward Carol's young talent describing her as a lyric soprano.
Carol graduated from University of Maryland in 1980 with a BS in Music Education.  Her senior recital included Mozart, Handel and Bernstein.
Currently, Carol is known as Minerva; introduced by her musician husband, Billy Finch, as the lovely and talented Minerva.
During Billy Finches' Musical Comedy Legends Stage Show, Minerva is the 'perfect foil'.  Minerva is referred to as the best kept secret in the Billy Finch Show with unscheduled cameo appearances and theatrical surprise attacks.  She keeps the audience guessing and hoping for more Minerva. 
Minerva has traveled nationally and abroad with Billy's Patriot Show, his Las Vegas Show featuring Frank Sinatra, his Rodney Dangerfield Act, the Golf Tournament Show, his Elvis Tribute Show and his newest theatrical presentation, Gettysburg, the Musical.  This Civil War themed production is Billy Finch and Minerva's way of honoring and bringing to life the men and women who lived and died during the three day battle. 
Minerva has a wide variety of vocal talent; from Italian arias to Patsy Cline's Sweet Dreams.  The 'music teacher' within occasionally performs for children's events, the 'showgirl' side of her continues to be one of Washington DC's best Singing Entertainers.  She owns Birthday Entertainment and Cabaret Carols Singing Telegrams which are based in Silver Spring, Maryland.
Minerva can be contacted at Legends.Finch@gmail.com  and 301-933-4333.